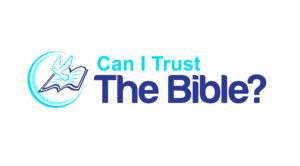 Can I Trust the Bible? How you really know you can trust the Bible? How do you know It is God's Holy Word? During this 2-hour dialogue, Nick asks 4 questions every Christian should ponder: 1) What is the authority of the Bible in your life? When the Bible says "go right" and your gut says "go left" which way wins? 2) Is the Bible perfect? Does it have any mistakes? 3) Which Bible is real? Some Christians have different versions of Scripture but which books are really God's word to us? 4) Is the Bible enough? Said another way, do I need other books in addition to the Bible?
Nick is able to divide the Can I Trust the Bible? presentation into several formats. He can do it all one Sunday night or break it up into 2, 3, or 4 1-hour sessions on a Wednesday night or Sunday night. He's also taught in the morning service and finished up the rest in the evening service. The point is he's flexible to your schedule.

The History of the Bible. What does Henry VIII's love life, the death of Alexander the Great and election of Pope in 382 AD have to do with how we got our Bible? A lot! This 6 hour study delves into the canon of Scripture and how the backdrop of history like the Protestant Reformation and the Council of Nicea all played a part in developing the 66 books we know as the Bible.
The typical formats for this study are 2 hours on a Friday night and 4 hours the next Saturday morning or one full Saturday from 8:30 and work through lunch. Another option would be 3 Sunday nights.

Psalms for the Persecuted. This is the story of Nick's testimony surrounding his indictment by a federal grand jury. While he was innocent of the charges, he prayed the Psalms and from that struggle he has a story to tell others about going through extremely tough times while learning to trust the Lord in a deeper way. Nick uses Psalm 31 to share his struggles and speaks how the Psalms for the Persecuted can relate to anyone who faces life's trials.
Nick has found when he has 35-40 minutes to give his testimony he's able to share best but he can accommodate a 25 message. Most of the time Nick speaks in the Sunday morning service or at men's conferences or pastor's meetings.